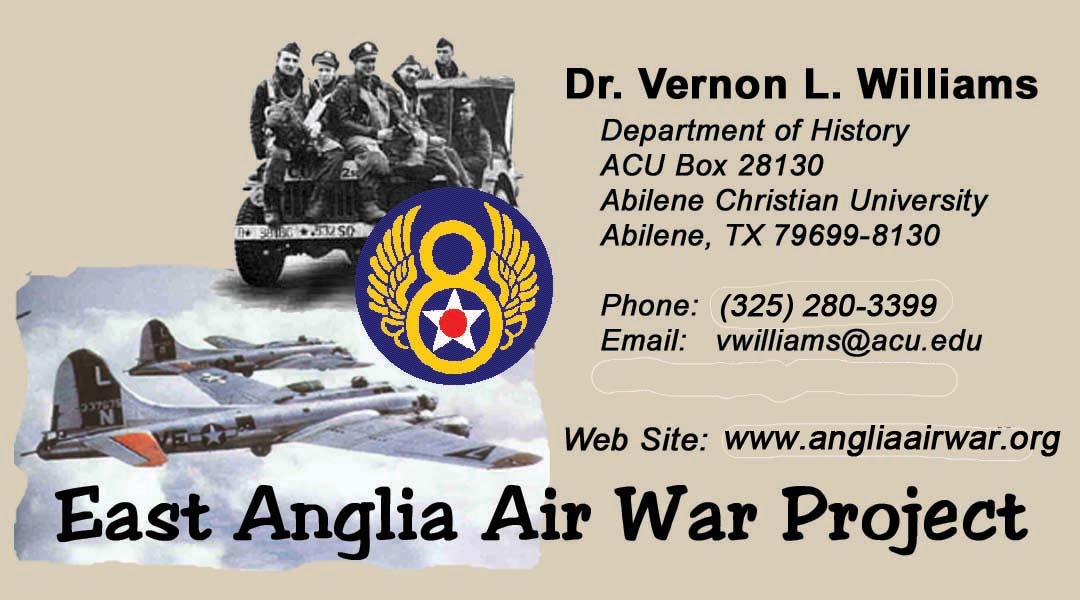 The Project and How to Participate
During World War II, the United States established air bases in East Anglia to support daylight bombing against the Axis powers in Europe. Throughout the region, small communities made way for the construction of large-scale airdromes. Farm land turned into a landscape of concrete, Nissan huts, and the implements of war as American bomber and fighter groups built significant infrastructure for operations against Nazi-held targets deep inside Europe. The sudden appearance of the Eighth Air Force in rural England, the rapid growth of the number of bases over a short time frame, and the resulting daily struggle for life and death over the skies of England and the continent forged a unique sense of community in these British villages and towns. For the American air crews and ground personnel and their British hosts, their common goals, together with the daily demonstration of sacrifice by the young air crews for Mother England and the Free World, shaped a special relationship between the embattled British people and their distant American cousins from "over the pond."
---
This study examines the World II experience of these American air crews and ground personnel, their British hosts, and the sense of community that held them together from 1942 to 1945. Since 2001 oral history interviews have been conducted and have become an essential part of the historical record for World War II.
---
It is still not too late to participate in the project. Dr. Vernon L. Williams, project director, is still interviewing American air crews, ground personnel and British family members who lived in the villages around the American bases. Please contact him to see if he will be in your area anytime soon. For those who would prefer to provide a written memory, please find below links to questionnaires which will ask a number of questions concerning your memories and experiences during WWII. I wonder if I could impose on you to spend some time responding to those inquiries? These questionnaires are important tools in the process of documenting your history and that of others you knew during the war.
---
Please use extra paper for any question where you need additional space. The space in the questionnaires is not an indication of how important or how much you should write. I hope you will treat each of these "thought" questions as an invitation to discuss and describe these topics completely. Thank you in advance for the time and effort you contribute to this project.
---
I am continuing an active schedule that includes follow up of the questionnaires with video interviews, producing documentary films, and beginning work on a book about the American and British family experience in the 8th Air Force in England. I hope you will take this first step and schedule an oral history interview or fill out the questionnaire. If you have any questions, feel free to call, write, or email me. Thank you for your willingness to assist in preserving the history of the air war in East Anglia and the surrounding region.
---
Select the questionnaire that fits your World War II experience.
---
Who is Eligible to Participate
This project is accepting participation by any veteran of the 8th Air Force in England during World War II. All bomb groups, fighter squadrons, cargo squadrons, and ground elements are eligible. Members of British families who lived near 8th Air Force bases and facilities are also eligible to participate. If you were a member of any 8th Air Force unit of any kind or were a British family member living nearby, please contact Dr. Vernon L. Williams.
About the Historian
Dr. Vernon L. Williams is a military and naval historian. He received his doctorate from Texas A&M University in 1985. He is currently serving as professor of history in the Department of History at Abilene Christian University. Since 2001 Dr. Williams has been working to document the wartime experiences of American and British citizens alike. Planned outcomes from this project include several books over the next few years. Currently Dr. Williams is writing a volume on the sense of community that developed between the Americans and British families living in villages around the American bases. The working title for the book is: "Crucible of War: The Anglo/American Exchange in World War II England, 1942-1945." A number of documentary films have been produced and more are in production. Dr. Williams' university students have also produced a series of short documenary films on wartime England what are gifted to British schools and museums for use in teaching current generations of British students about World War II in England. For more about Dr. Williams and his background, check the appropriate links below:
Have viewed this site since February 19, 2006